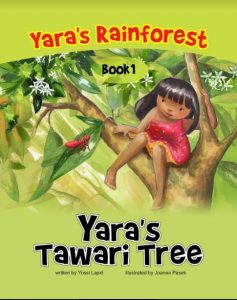 Yara's Tawari Tree (Yara's Rainforest Book 1) by Yossi Lapid (Author) Joanna Pasek (Illustrator)
Yara's Tawari Tree by Yossi Lapid is a charming, fun and beautiful story for young children to enjoy and delight in, while being educated about the importance of nature and the trees that surround them.
Yara is a young girl who lives her life in the jungle, amongst the beautiful nature of the rainforest, with her mother. When a Parrot named Chant takes Yara to a Tawari tree that is in danger of being cut down and cleared out with the rest of the trees, Yara carefully uproots it and takes it home. Yara and her mother gently replant the tender little Tawari tree seedling,
thus saving its life. Then, one day Yara becomes sick, and a tea made from the very same Tawari tree's bark saves Yara's young life in return.
Yara's Tawari Tree is another enchanting story, by Yossi Lapid, with a strong important message for children to both enjoy and learn from. Realizing the significance of nature and plant life and how much we need it, not only for its beauty, but for its benefits too, is a good lesson for children to begin to learn at a young age. The story's message of cherishing and caring for nature is very clear and made simple for young children to understand, relate to and think about.
Yossi Lapid's whimsical writing style will certainly delight any young child's ears and heart with his cute meaningful rhyming stories. Along with preschoolers, Yara's Tawari Tree is also great for kindergarteners, 1-3 graders and early readers. This book should be in every library and school, as well as at home. Every homeschooling parent needs this adorable educational book for their child as a learning tool for science and nature studies.
Above all, Yara's Tawari Tree is for every child to be enjoyed, entertained and captivated by. The beautiful message along with the lovely watercolor paintings will be treasured by both children and parents. Illustrator, Joanna Pasek's vibrant use of colors, fanciful brush strokes and playful images gives Yara's Tawari Tree a unique lively eye-appeal that children will be mesmerized and dazzled by.
Overall, Yara's Tawari Tree by Yossi Lapid and illustrated by Joanna Pasek, is a work of literary and visual art for young children. This cute rhyming story is meaningful and fun. Kids will love it, cherish it and eagerly want to read it over and over again.
Yara's Tawari Tree has a wonderful coloring book available too. Children will be delighted while they actively participate in the Yara's Tawari Tree story by using their creativity and imagination to color and create their own beautiful rain forest world.
Get every young child in your life a copy of Yara's Tawari Tree. You will be giving them a special little treasure they will always remember and want to keep forever. Highly recommended by Chick Lit Cafe.
                                                        Purchase Yara's Tawari Tree by Yossi Lapid today!


Are you looking for a fun way to keep your child focused and entertained this summer? This high-quality coloring book is sure to engage your little ones for hours! Give your child a memorable, hands-on, experience with this charming rainforest adventure coloring book. Grab your copy now and foster the love of nature at an early age!
Purchase Yara's Tawari Tree COLORING BOOK today!