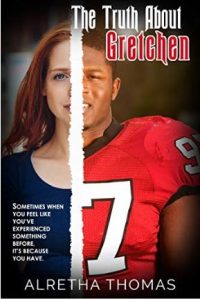 The Truth About Gretchen (Dancing Hills Series Book 2) by Alretha Thomas
Synopsis:
Gretchen Holloway, in her final year of graduate school, is in the throes of auditioning actors for her thesis film, inspired by a murdered young football star who has haunted her dreams for two years. Gretchen believes making the movie will be cathartic. But instead of freeing her, embarking upon the film production unleashes a sequence of events that lead Gretchen to conclude that she's the reincarnation of the young man.
Regina Wilson has always wanted to be an actress. When her agent gets her an audition for a role in Gretchen's film, which eerily mirrors one of the worst events of her life—the unsolved murder of her older brother, Robert—she's hard-pressed to go through with it. Upon fleeing, she leaves behind a keepsake that features Robert's photo. Gretchen sees the picture and recognizes Robert from her dreams. She tracks down Regina, and after being rebuffed and called crazy, Gretchen's unexplainable knowledge of events in Robert's life eventually convinces Regina that Gretchen is Robert reincarnated.
The two decide to have his case reopened, but their significant others are dead set against it, and the police, who believe that Robert's death was gang-related, are less than cooperative. However, Gretchen is desperate to get justice for her former self, and Regina wants justice for her brother. The women piece together the final week of Robert's life. And the deeper they delve into his past; one shocking revelation follows another, leaving them wondering who they can trust and if they'll live long enough to find Robert's killer and bring him to justice.
The Truth About Gretchen by award winning author, Alretha Thomas is an intriguing, captivating mystery unlike anything I have ever read. This is one of those rare books that must be made into a movie. Readers are in for a surprise with this suspense filled, mysterious and emotional book.
Gretchen Holloway has been cursed with recurring nightmares about a young man who has been murdered. She is a graduate film student, and feels a strong need to make a movie about her dreams and what she sees.  Regina Wilson's brother, Robert, was murdered twenty-six years ago, and it has since gone unsolved. She is an actress about to audition for the leading role in Gretchen's film, but she backs out at the last minute with the chilling feeling that the film strangely resembles her own brother's murder. However, she mistakenly leaves something behind which Gretchen finds. This seemingly insignificant item bonds Gretchen and Regina together in an intriguing, momentous and spiritual way.
Alretha Thomas' expressive writing style captivated me from the very first chapter. I quickly connected with Gretchen and Regina, as I felt their emotions, heard their thoughts and could picture the entire scene as they were driven to find Robert's killer. With a powerful original premise and compelling storyline woven together beautifully, The Truth About Gretchen is the best book I have read in years. It is magnificently written in the first person of the two main characters. This story is a rollercoaster ride with many dirty players involved. With a depth rarely seen in mystery and suspense books, the author has created a one-of-a-kind story with remarkable, relatable and likable characters and compelling clues that all come to shape magnificently, drawing the reader further and further in at every turn of the page. The conclusion is astounding.
The Truth About Gretchen by Alretha Thomas is a welcome gift to all readers who love mysteries that go beyond the ordinary. But, instead delves into extraordinary unique elements that will keep them coming back for more from this noteworthy author. This is a 5 star must read book!
Purchase The Truth About Gretchen by Alretha Thomas


 Visit Alretha Thomas' Featured Author page on CLC's Author Spotlight page.