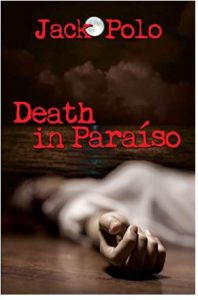 Death in Paraíso by Jack Polo
Private detectives Matt Singer and Jamal Wade's plan to sell real estate as a side business explodes into murder when their client is brutally slain in a house they've listed for sale.
In their search to find the real killer, Matt and Jamal are trapped in a Chinese puzzle box of cover-ups and corruption that goes to the very top of the southern California beach town known as Paradise.
Before this case comes to its shattering conclusion they will uncover a man's crushed skull and shattered bones buried forty years ago … the Mayor's illegitimate son who threatens to destroy his father's reputation … a political assassination disguised as an accident .. and the most devastating discovery of all – that the truth is far closer to them than they'd thought possible.
From the opening scene of Jack Polo's intriguing mystery novel, Death in Paraíso, real estate agents and private detectives, Matt Singer and Jamal Wade are thrust into solving a dangerous mystery in a town where those in power are drenched in crime, greed, and corruption.
Set in a small, quiet Southern California beach town, the novel begins with an event that rocks Paraíso del Mar. Abbey McDougal, a wealthy divorcee, is found dead in a mansion listed for sale by Matt and Jamal. As they begin solving the mystery, a second body is found. Uncovered in a construction site, this one is decades old. Despite their unfriendly relationship with the Chief of Police of the town and his minions, both detectives carefully work to uncover the mysteries. A risky and timely visit by Matt and shortly later, the death of the mayor takes the detectives closer to the truth. But solving the mystery will prove more dangerous than any of them had anticipated as they try to maneuver the town's political class to reveal the truth.
The friendship between Matt and Jamal is developed through their entertaining dialogue that is infused with humor. The detectives are likable down-to-earth characters who even though unaccustomed to high-level crime, the kind that shakes the political powers of the sleepy town, are willing to employ their ingenuity to do whatever it takes to uncover the facts of the cases, even if this means breaking a few rules. One mystery is soon followed by another which maintains the suspense of the plot. As the novel comes to a close, the mysteries intersect leading to a gripping final scene. In Death in Paraíso the mysteries are captivating, the characters are likable and authentic and the plot is amazing and appropriately paced.
Death in Paraíso is a fascinating mystery novel that is both imaginative and engaging. With its well-developed characters and baffling mysteries, it is an amazing addition to Matt and Jamal's mystery series. Death in Paraíso by Jack Polo is an exceptional work of fiction and highly recommended by Artisan Book Reviews. ~ Book review by Edith Emunah
If you are an author and would like your book reviewed and/or promoted, please feel free to fill out Artisan Book Reviews book submission form for qualification and to receive more information today.
book reviews, book promotions, book marketing, artisan book reviews, honest book reviews, professional book reviews, editorial book reviews, book review sites, book promos, book promotion sites, free book reviews, book review blogs, book blogs, readers blogs, reading blogs