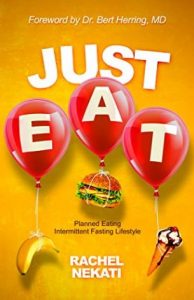 Just Eat: Planned Eating Intermittent Fasting Lifestyle by Rachel Nekati
Synopsis:
The very first eating lifestyle book to tell you to Just Eat; have your ice cream, burgers and still look good whilst feeling light. In this book, the author shares her twelve-month success in liberating herself from thirty years of yo-yo roller coaster diets. She takes us through her journey of achieving health and fitness goals by adopting the Intermittent Fasting Lifestyle. Rachel also discusses various principles and recommendations of Intermittent Fasting protocols as well as how emotions can affect our eating patterns.
Just Eat: Planned Eating Intermittent Fasting Lifestyle by Rachel Nekati is a wonderfully informative
Self-help book on how to implement and live the intermittent fasting lifestyle. After trying many programs, eating plans and various dieting products, Rachel Nekati was tired of the never ending cycle of failure and despair. Then she discovered intermittent fasting which offered new hope and promise to her weight loss journey. She has discovered a lasting way to keep the weight off, be healthier and have more clarity and energy. She shares about the science based method that helps to keep her on track.
Rachel Nekati shares all of this knowledge, and much more, in her excellent book, Just Eat, which will help others to learn new skills and help change people's lives in a major and positive way.
With intermittent fasting, there is no counting calories, no weighing food, no diet pills, no protein shakes and no excessive exercise. Intermittent fasting is simply a way of deliberately cycling between eating and then not eating. Feasting and fasting. Rachel Nekati states that it will make you slimmer, healthier and happier. Some of the other benefits and health issues that were greatly improved for Rachel include: normalizing blood pressure, curing body inflammations, improving Insulin sensitivity, improving her eye sight and clearer and glowing skin
It has not only worked for her, but in her book there are many testimonials of people that have adopted the feast and fast method that have had great success with weight loss. They state that they are more energetic and satisfied. She also, extensively, discusses the important and common issue of emotional eating.
Just Eat has a wealth of knowledge in it. It is filled with tips and ways to implement the intermittent fasting lifestyle. If you are sick of the diet roller coaster and want a simple realistic way of losing weight, gaining more energy and living an overall healthier life, then get a copy of her fabulous book. Just Eat: Planned Eating Intermittent Fasting Lifestyle by Rachel Nekati, will revolutionize and change your life. Highly recommended by Artisan Book Reviews.
Purchase Just Eat: Planned Eating Intermittent Fasting Lifestyle by Rachel Nekati @Amazon Here