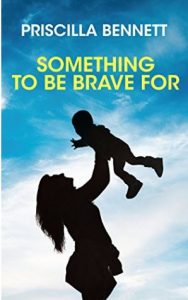 Something To Be Brave For by Priscilla Bennett
Synopsis:
SOMETHING TO BE BRAVE FOR tells the sometimes tender yet often harrowing story of abuse and of a woman's resilience and courage, a tale that culminates in the triumph of self-discovery.
Something To Be Brave For by Priscilla Bennett is an eye-opening realistic look at domestic abuse. Whether physical or mental abuse, the victim feels trapped and unable to escape. In this novel we have Katie Giraud who lives a privileged life among the rich and affluent society. However, Katie's life is not what it appears on the surface. Married to a prominent plastic surgeon whom everyone adores, Katie is constantly under the control of her husband. He physically abuses her on a continual basis while beating her senseless.
His charm and friendliness toward other people stops at the door when he enters the beautiful home that he and Katie share with their young daughter, Rose. While battling for her survival, without the support of friends and family, will Katie ultimately escape the fear and abuse, come to self-discovery and free herself from her abusive husband?
The story begins with some tragic events, but then author, Priscilla Bennett, neatly gives readers a look at the lovely love affair and marriage to the handsome young man and doctor, intent on an idyllic beautiful life together. Eventually her adoring husband, Claude, changes and turns into a monster with a serious mental illness issue. The author reminds and brings attention to readers on how such acts can go on without notice, repercussions or help for the victims.
This story will interest and help anyone who has been in their own fight to free themselves from mental or physical enslavement and violence. With an innate desire to help women that experience abuse at the hand of their spouse or someone close to them, Priscilla Bennett has woven together a thought-provoking, compelling and educational story that readers will appreciate and learn from.
Something To Be Brave For is not for the faint of heart. Filled with episodes of the horrors of attacks and the abuse perpetrated on the victim, it is also full of hope, inspiration and tenderness. Author, Priscilla Bennett is a retired emergency room nurse and relates that abuse has no confines and can occur in all walks of life. Her goal is to bring to light the atrocious cruelties of this continuing and rampant problem that we have in society- behind closed doors. Through her writing, she aims to give women a voice and to help them escape and heal.
This novel is remarkable, engaging and enlightening. Many women will identify with it and others will become more aware of the ongoing issue of domestic violence and hopefully reach out to those in need of help. It is written well with the author's message and voice clearly heard. This is a must read story that I couldn't put down. It is a sensitive and important subject, and Chick Lit Cafe commends Priscilla Bennett for addressing it and caring so much as to write  Something To Be Brave For.
Purchase Something To Be Brave For by Priscilla Bennett @Amazon Here