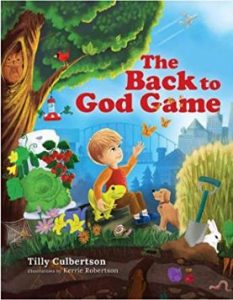 The Back to God Game by Tilly Culbertson -Illustrations by Kerrie Robertson
Synopsis:
"Every child…and adult needs to read this book."
The Back to God Game is the perfect read-aloud for parents and grandparents to share with children ages five and up.
Rule #1 Everything on Earth comes from God's creation. You can take anything on Earth all the way back to God.
Join Alden and his Granna as she teaches him a fun game that teaches him why we need to thank God for everything He gives us.
Themes and Extended Activities: Creation Science, Natural Resources, Healthy Eating, Conservation, Thankfulness, Grandparents and Family.
Six-year old Alden and His Granna are driving home from a weekend trip. The boy is tired of playing I Spy and ready to get back home to his family. Granna remembers a game she used to play with her son when he was small and offers to teach it to her grandson. As she explains the rules, he rejects the idea that everything goes back to God's creation. He quickly finds out through this fun game that God provided everything we need when He created the Earth for us and that is why we need to be thankful for everything. After all, nothing has been added to the Earth since it was created except for rain and a few meteor rocks. The sweet ending will bring a happy tear to any person who loves a child. Included is an activity for the reader. Helpful tips are provided for adults to help children continue playing the game.
Review:
The Back to God Game by Tilly Culbertson is a wonderful, beautiful book which teaches children about God's creation through a story and a game in an imaginative and interactive way. I believe that every family should have a copy of this inspiring book.
On a long road trip home with his grandmother, Alden is antsy and bored. His grandmother suggests a new game to play called The Back to God Game. At first Alden is apprehensive when the rules are explained but after Granna does an example for him he catches on quickly and that's when the fun begins! Alden slowly learns how anything and everything around him can be taken back to God and HIs creation! He is absolutely amazed!
Children's author, Tilly Culbertson has written a unique and original story about a special game that challenges young, and old minds alike, to look at God and his creation of all things on Earth. It's a clever and entertaining opportunity to take anything and everything all the way back to God, a fun and rather enlightening way to understand what He has created for all of us to enjoy! A new way to open one's eyes to always be thankful for all of the beautiful blessings that He has bestowed upon us. Not only does the game teach that God has a hand in all of life's surroundings, but it also incorporates important creation science/natural resources themes and a focus of the importance of healthy eating – and family values as well! A definite must read for all to remind us of how fortunate we are for such wonders this world has to offer because of God and His amazing gifts. The illustrations are bold and bright, making this book very pleasing to the eye and attractive to children. Along with the book comes an exciting and instructive activity book that will keep its readers busy and thinking of The Back to God Game and all its possibilities – even after the story ends!
Kids Lit Book Cafe highly recommends this interactive and informative book to all – without a doubt. My children of all different ages were able to understand and enjoy it immensely. They even had a blast playing the game on their very own! Such a smart and effective way to teach the truth of creation and have a good time doing it too! My children and I all love The Back to God Game by Tilly Culbertson, definitely one to pass down to generations to come!
Reviewed by Beatrix Bloom for Kids Lit Book Café
Purchase The Back to God Game with fun activity book here The Back to God Game with Activity Book Buy
Purchase The Back to God Game by Tilly Culbertson @Amazon here