Bay of Devils by Grahame Shannon – Award Winning Author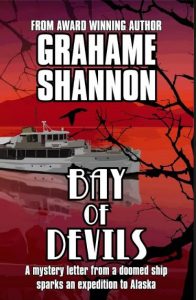 Bay of Devils: A mystery letter from a doomed ship sparks an expedition to Alaska (Bay Mysteries) by Grahame Shannon
Sean Gray, sailor and amateur detective, teams up with clever waitress Cindy Lu to solve a fifty-year-old mystery of strange events and buried treasure in Thomas Bay Alaska, aka the Bay of Devils. In 1918 the SS Princess Sophia sank in Alaska with 350 souls aboard. All perished when the ship, stranded on Vanderbilt reef, slid off into deep water. Going through her father's effects in 1968, Cindy finds an old flask. The message inside is from the doomed ship. She delivers it to the original address, which is nearby. Elizabeth Hadley, now in her seventies, reads the letter from her former suitor with excitement. She hires Sean to lead an expedition and unravel the mystery. He tracks down Cindy, and the chemistry between them is immediate. Lizzy introduces the crew of her 110-foot classic yacht Lady L, including Ajax, an acid-tongued parrot. With Cindy as cook, and Levi, a mysterious Israeli ex-soldier, providing security, Sean prepares for the voyage to Alaska. However, they aren't alone. There are others after the booty, and they are willing to kill anyone who gets in their way. So, with pirates hot on their trail, will they find the treasure and unlock the secret behind the half-century-old mystery? Find out in Bay of Devils, from award-winning author Grahame Shannon. 
With a great story and an excellent plot, Bay of Devils by Grahame Shannon is a rip-roaring nautical venture you won't want to miss!  Epic adventure wrapped around a treasure hunt and a missing letter.
With a tantalizing forward, where Grahame Shannon announces that some aspects of the story are in fact true, we are left to determine which parts are fact and which are fiction.  Already, an air of mystery and excitement is created!  From the off-set I was hooked.  Shannon's first-rate way of telling a story grabbed my interest.  With a humorous touch throughout this was simply a great read.  There were many laugh-out-loud moments but my belly-laugh came with the vows of an impromptu wedding at sea.  I won't spoil it for you by telling it here, but the vows are simply a stroke of genius that had my shoulders shaking for several minutes.  I appreciated all the photos that added a certain authenticity to the story.
We are introduced to Sean Gray in 1968, aboard his yacht 'Tangled Moon' in Coal Harbor.  He is instantly likeable to the reader, but also to all the females he smiles upon!  A rascal maybe?  Well a goodhearted one anyway.  By not affording to take down the old sign from the premises he rents, which states 'Anson Investigators', he is somehow hired to find a missing chest that is mentioned in a letter that took fifty years to be delivered, to a woman called Elizabeth Hadley.  Up for an adventure, and definitely for some pay, Sean accepts the job.  The crew that go with him are all great characters, but stealing the lime-light for sure is Ajax the cocky parrot!  When petty thief Fingers Finnegan turns up dead on Sean's boat the seriousness of the situation hits home.  The forth-coming enterprise would be a far cry from a walk-in-the-park… but then again, there would be romance, adventure and lots of good food!
Grahame Shannon tongue-in-cheek manner of storytelling delivers us a first-rate maritime escapade, one that I couldn't stop reading until I reached the last page.  With excellent pace, remarkable descriptive narration and really great characters Bay of Devils by Grahame Shannon comes highly recommended by Artisan Book Reviews.
                                           Buy Bay of Devils by Grahame Shannon today!

Artisan Book Reviews is now accepting submissions for book reviews and/or promotion. Submit your book for approval.