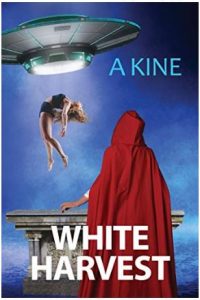 White Harvest (Beyond the Veil of Propaganda) by A Kine
Trapped in a secret, underground military base, Lilly takes comfort in the arms of a long-term captive there who's like no man she's ever met before. When discussions turn to the social agenda playing out in the world above, he reveals secrets concealed long ago in religious texts. Working towards a set goal, the global elite have been following mystery school teachings for thousands of years. Using knowledge encoded into readily available texts, the Freemason's, the CIA, and the Catholic Church's dark agenda has long been to steer humanity towards the human harvest spoken of in Revelation. For this, they will be richly rewarded by tyrant overlords who, besides a vague notion of a god, the populace know nothing of. Horrified by shocking revelations regarding the human condition, and with the time set to a minute to midnight, Lilly plots her escape.
Review:
White Harvest by A Kine is an intriguing tale of adventure, lust, conspiracy and mystery. This is not the type of book you'll want to read to unwind and relax. This is because the author knows how to hold her readers in a powerful grip of suspense. This page turner will engage and enthrall you from beginning to end.
We are introduced to the protagonist, Lilly, as she awakens to find herself imprisoned and pregnant with no idea how she got there. Lilly is surrounded by people who appear untrustworthy, but due to her circumstances, she has little choice but comply with their demands. As the story moves on, Lilly is introduced to Ox, a humanoid. The pair begin an unconventional relationship that is monitored and encouraged by the authorities. I have to say that this relationship was fascinating to read, and also thought-provoking as it raises questions about what society deems is normal and acceptable behavior. After all this, who can Lily really trust? And, where is the story taking her? Readers as passengers will be enthralled and compelled to continue reading to find out.
Author, A Kine weaves an intriguing tale of secret government and plans to harvest humans that are embedded in a complex web of authoritarian lies and deception. The book's title offers a hint behind the real purpose of the reigning elite's motivations, which adds to the weight and seriousness of the story.
The eroticism in this book is stimulating and draws the reader in and drives him or her to question the psychological impact sex can have on complex relationships where there are significant power differences and where egos clash and fight for dominance. After all, can we develop meaningful partnerships with others who are so different from ourselves? Can sex be love and if so, does it always have to be between a man and a woman?
White Harvest will leave you spellbound, speechless and entirely craving more. It will send you into a world where conventional approaches and ideals are challenged and where you are made to sit up and pay attention. I have no doubt that it will raise questions and issues that are pertinent to modern times and keep you captivated and guessing to the very end. I thoroughly enjoyed this book and am looking forward to reading more from author, A Kine. White Harvest by A Kine comes highly recommended by Chick Lit Café Book reviewed by Susan day.
Grab your copy of White Harvest(Beyond the Veil of Propaganda) by A Kine today!!